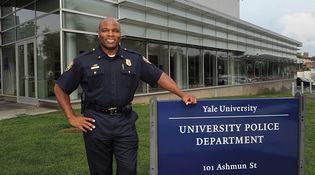 Michael Marsland
This article originally appeared as a sidebar to "Everyday Justice," a profile of Law School professor Tracey Meares, in our January/February 2018 issue.
Ronnell Higgins, Yale's security director and chief of its campus police, first heard the term "procedural justice" from Tracey Meares. That was in 2008, soon after Meares arrived at Yale Law School; then-Chief James Perrotti had invited her to speak to campus police about her research on police-community relations. "Jim Perrotti realized what national leadership Tracey had," says Higgins, who succeeded Perrotti as chief in 2011. "It was before [discussions of] police legitimacy, before police reform, before all those things were in the national news."
Listening to Meares describe procedural justice, Higgins realized that he'd adopted some of its strategies while working at the state-run jail in Bridgeport, Connecticut. Officers at the jail did not carry guns, and Higgins had felt he would be safer if he showed respect for prisoners, listened to their side of a story, explained decisions, and conveyed that he was striving to be fair. All of those steps are principles of procedural justice.
When Higgins joined the Yale police in 1997—"from jail to Yale," he jokes—he found that students demand an explanation before obeying an officer. As Higgins describes it, "They're not going to operate on the premise of 'Because we told you so.' That's not going to fly. They're used to having things explained." So, "before even knowing what procedural justice was, we were practicing it."
Higgins, who was named one of the "most influential people in security" by Security magazine in 2017, leads a 93-member department. He confers with several colleagues at Yale, including law professor Tom Tyler and psychiatry professor Steven Marans, an expert on the effects of violence on children. Meares is high on the list: "Why would we not call on a Tracey Meares, who is an in-house subject-matter specialist?" He says he appreciates how she breaks down a problem and then methodically examines each aspect. Furthermore, "although she's a professor, she spends enough time with practitioners to understand the world we work in. She gets it." Meares also encouraged Higgins to be a lifelong learner, inspiring him to earn a master's degree at the Naval Postgraduate School's Center for Homeland Defense and Security.
Higgins called Meares in January 2015, after a Yale officer, gun drawn, briefly stopped Yale junior Tahj Blow '16. Blow is African American, and an African American burglary suspect had been spotted in Trumbull College; Blow's clothing was also somewhat similar to the suspect's. Two days later, New York Times columnist Charles M. Blow wrote about his son's experience in a column headlined "Library Visit, Then Held at Gunpoint." Blow did not object to the stop, but he criticized the use of a gun, and he worried that his son might have been shot if he'd alarmed the police officer.
After the incident, Higgins recalls, "we had a long, long meeting with Tracey, and she was great. We were looking at use of force, which we should have [looked at]—but one of the things that Tracey pointed out was that, with everything else that was going on, this is what your officer did: he took the time to explain to the young man, and he contacted him afterwards to explain further."
Higgins says he works continuously to promote procedural justice within the department as well as on the street. "Legitimacy is both internal and external. And you can lose it. That's one of the things I learned from Tracey."