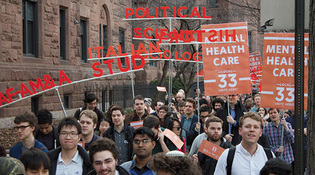 Finnegan Schick
Local 33 supporters marched on College Street in a 2016 demonstration. View full image
For more than 25 years, a union composed of graduate-student teaching assistants has been trying to win official recognition from Yale. The union has been more active in some years and less in others, as student members have changed over time, but to date, it has not achieved a majority vote from all teaching assistants. Recognition seemed near at hand in 2016, however, after the National Labor Relations Board upheld the right of TAs at private universities to organize. It seemed even closer in 2017, after Yale's Local 33 (formerly known as GESO) won a union election.
But in February, after the NLRB overruled an Obama-era precedent that was vital to the Yale union's organizing strategy, Local 33 withdrew its petition for recognition to the NLRB.
The 2017 election employed a "micro-unit" strategy, in which TAs in 9 of Yale's 56 academic departments held elections as individual bargaining units; 8 of them voted to unionize. But Yale refused to recognize the union, arguing that because only about 10 percent of grad students were allowed to participate, the vote wasn't valid. (The Yale administration has long opposed a union for teaching assistants. In an e-mail to the Yale community after the 2016 NLRB decision, President Peter Salovey '86PhD expressed concern that the relationships between graduate students and their professors "would become less productive and rewarding under a formal collective bargaining regime.") The university asked the NLRB to review the union's use of the micro-unit strategy, which had been employed before in other fields but not in academia.
In response, Local 33 accused the university of playing politics, suggesting that Yale was trying to stall the process until President Trump's new NLRB appointees—who are decidedly less supportive of organized labor—were in place. Last spring, students from Local 33 staged a hunger strike for nearly a month, but the university refused to engage.
Eventually, the hunger strike was called off. Local 33 representatives waited for the university to recognize the union. The university waited for the NLRB to come to a decision. And pro-union graduate students in other institutions waited to see whether Yale students would be successful.
In December, the NLRB overturned a 2011 ruling, from a case involving nursing-home workers, that had been the basis for upholding Local 33's micro-unit strategy. Two months later, Local 33 leaders withdrew their petition to the NLRB. Local 33 copresident Robin Dawson '19PhD told the Yale Daily News that the union didn't think the new Republican-led NLRB would be supportive. "President Trump's NLRB has repeatedly demonstrated its hostility to workers' rights," she said.
Where does Local 33 go from here? Gabe Winant '18PhD, the union's vice president for communications, says that, for its next step, the union could work on building a national movement. "There are thousands and thousands of grad students who have voted for a union at private universities that refuse to negotiate with them," he says. "Pulling the petition doesn't mean that we stop seeking that goal." In the meantime, he says, Local 33 will continue to pursue a contract with Yale and to advocate better pay, funding, and benefits for grad students.
At the same time, many Yale graduate students have either opposed unionization or objected to various aspects of Local 33's approach. Yale's Graduate Student Assembly is officially neutral on unionization, but it passed a resolution in 2016 opposing Local 33's efforts. In an e-mail to students and faculty, Graduate School dean Lynn Cooley said she is "deeply committed to working with the GSA to enhance the quality of graduate student life at Yale."