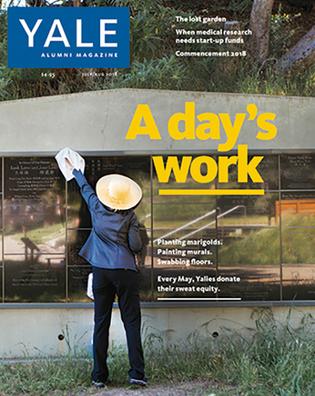 I was extremely pleased to see the extensive coverage of the Yale Day of Service ("A Day's Work," July/August), starting with the cover photo from my area. I'm sure it will encourage still more people to participate in the future. They will learn they receive much more than they give. I've come away with that feeling after each of my five or six YDOS events.
Picking up trash in some well-known alleys gave me a new vision of touristy Chinatown, partly because it turned out we were augmenting an organization of teenagers who do it monthly. I learned that kids are taught about plants and gardening in a San Francisco park when I spent a morning pulling weeds there. I did YDOS at a food bank a second year because the first session so impressed me with the efficiency of the operation, and I came home with a wonderful feeling that I had really helped people.
Serving lunch to multitudes of the truly down-and-out in one of San Francisco's grittiest neighborhoods reminded me of my own good fortune. Chopping vegetables for an organization that delivers packaged meals to seniors and disabled people gave me an insider's look at a highly regarded service, Project Open Hand, that I thought I knew—but really didn't, until then.
On all of these occasions I was in the company of Yalies (and their family members) of all ages and ethnicities, from all facets of Yale—Yale College, the School of Management, the medical school, you name it. That mix of smiling, happy people joining together further enhanced the pleasure.
I'll keep doing Yale Day of Service as long as I'm mentally and physically able. I can't wait to see what will be next year's opportunities to learn, to contribute, and to be rewarded.
Don Langley '55
San Francisco CA
Your article on alumni charitable giving seems to reinforce the regimen suggested by Yale and AYA, namely take one day, wear a fancy T-shirt, walk around with a Yale embroidered bag, have a couple of beers afterwards with your colleagues, and pat yourself on the back for a job well done. Yale should be espousing a charitable life putting volunteer efforts right up there with family and job. Yale's entire approach suggests that no long-term effort is required.
On the contrary, the Yale Class of '58 surveyed its members on the occasion of its 60th reunion this June. The purpose was to document what charitable volunteering people have been doing over the rest of their lives. We put over 100 submissions into a book and presented a program on reunion Saturday extolling the lifelong volunteer efforts of our classmates.
Our overall conclusion is that the episodic one-time-only volunteering Yale is suggesting and embracing is not helpful since that is not sufficient to encourage the lifetime of volunteering that we feel is our responsibility.
Joel Schiavone '58
New Haven, CT
"A Day's Work: Planting Marigolds, Painting Murals, Swabbing Floors. Every May, Yalies donate their sweat equity."
Ewww!
It is a nice story about a bunch of well-meaning Yale alumni participating in one international day of service a year (!), doing things that don't really take a lot of sweat. I would love to have a cover story on a student (undergrad or grad) who is part of one of the exciting and impressive stories in the Findings section of the magazine. Tell us more about these future alums who do these truly amazing things at Yale that promise true service to the world.
Deborah Robin '80
West Hartford, CT
Forerunner
Re: Melinda Beck's article on the organization Women's Health Research at Yale ("We Wouldn't Have Known if We Hadn't Looked," July/August), Yale's work in this area predates Carolyn Mazure and WHRY. I wish to give a shout-out to Jennifer Kelsey '66MPH, '69PhD, in the Department of Epidemiology and Public Health, who carried out several long-term studies on women's health issues. In 1977, while working for Planned Parenthood of Connecticut, I saw a listing in a Yale phone directory for "Health of Women Survey," and knew how important that work must be. I joined her team a year later.
Candace Harris '81MPPM
New York, NY
Jennifer Kelsey has been recognized on a Yale School of Medicine webpage, 100 Years of Women at YSM. From Yale, she went on to head Columbia's, and later Stanford's, division of public health. She has received, among other awards, Yale's Wilbur Cross Medal and the Distinguished Alumni Award from Yale's Department of Epidemiology and Public Health.—Eds.
Equity in sports coverage
In this year's January/February issue, I enjoyed reading the article on "a football season to cheer." Congratulations to the football team for their Ivy League title. In the sidebar, I saw that the volleyball team had also won the Ivy League title (shared with Princeton). I would have enjoyed reading a page about their equally successful season, and the dramatic playoff game for the NCAA ticket.
In the most recent issue, there was a page for both the men's crew and men's lacrosse teams for their national championships. Well done, and equal recognition for equal success. So what about the volleyball team's success? How long ago did Yale go coed? And wasn't Title IX established in the early '70s?
Polly MacMullen '80
Brentwood, NH
Our January/February and July/August sports articles featured only men's teams; our May/June articles featured only women's teams. We allot our limited space based on a number of factors—including, in the case of athletics, a team's notable or unusual success and the popularity of the sport among alumni. We also strive to cover a variety of sports: men's, women's, and coed. Thanks for holding us accountable.—Eds.
Alumni and controversies
Now that Yale has revoked Bill Cosby's honorary degree ("Honorary Degree for Bill Cosby Is Rescinded," July/August), it's time to remove President Clinton's portrait from our Law School. He is an admitted sexual predator whose law license was suspended after he committed perjury in a federal judge's presence. Continuing to honor him serves only to highlight Yale's hypocrisy about women's rights and the rule of law.
Tom Spahn '74, '77JD
Reston, VA
We noticed former president George W. Bush's pleasant visit to the reunion (Reunions, July/August). Of course, everyone knows he started a war of choice based on false information which led to the deaths of over half a million people (according to a Johns Hopkins study), almost as much as in the American Civil War. Should we assume that Yale and the Class of '68 have no concern about this fact, when all is said and done?
Tom Walker '70
New York, NY
It is entertaining to learn that Richard Brodhead's 50 years of experience in higher education has taught him that "campus turmoil" is not new ("How Higher Ed Has Changed. And How It Hasn't," May/June). He cites the Black Panther, Westmoreland, and Giamatti dustups at Yale. He does not mention the disaster involving accusations against the lacrosse team at Duke when he was president there.
According to the carefully documented book Until Proven Innocent, published in 2007, when "confronted with a crisis of epic proportions, with Duke's hard-earned reputation at risk, he faced the ultimate test of courage. And in an extraordinary moral meltdown, he threw in his lot with the mob."
Edwin S. Rockefeller '48, '51LLB
Washington, DC
Scully and the "sons of bitches"
Colin Eisler '52 refers to Vince Scully's comments about his senior colleagues when he received tenure with the statement: "That'll show those sons of bitches!" (Letters, July/August).
I don't believe it is disrespectful to Scully's amazing legacy to mention that I had a wonderful experience at Yale with one of the mentioned colleagues, the now deceased George Kubler. Although I was not an art history major, I took courses with him on Art of American Antiquity and Latin American Art. He was a brilliant man, a great teacher, and a very kind person.
Steve Bauer '74
Los Angeles, CA
While anecdotal evidence supports Colin Eisler's recognition that wealthism characterized the thinking of certain mid-twentieth-century senior members of the History of Art department, for the late Professor Vincent Scully's remark "That'll show those sons of bitches!" to have had a forceful, real-world referent (as opposed to merely being an instance of voiced and self-dramatizing shadow boxing on the part of a Scully understandably feeling his power), at least two senior colleagues would have to have written against his being granted tenure (two, in that "sons of bitches" is a plural). Documents may prove me wrong someday, but until said day, the possibility that colleagues wrote against his tenure case will seem slight and Eisler's "hatred" will seem overstated.
For my memory's nickel, I prefer to invest in the clear, high sense evoked by something that Scully said early in his remarks on the occasion of George Kubler's formal retirement. He spoke the words in question at a retirement party in the old Street Hall sculpture hall, and however much they suggest battle, they have always struck me as an expression of the utmost in urbane collegiality and professionalism: "My time with George in this department goes back to before the war. I'm referring of course to the Peloponnesian War."
David Steinberg '81
Charlottesville, VA
A woman's journey
The July/August letter from Dr. Amy Starr, about "another kind of Yale woman," evoked memories of yet another kind. While I was studying at the Yale School of Medicine, my newlywed spouse was accepted for her final semester of undergraduate studies in the spring of 1969. As this was just before gender integration in the college, her admission was strictly on condition that she would receive her degree from MIT (her former school), not from Yale. She soon joined me at the medical school, but then subsequently completed her medical education at Harvard after I was accepted into a residency program at Massachusetts General Hospital. Carolyn became the first female resident in radiology in several decades at MGH and continued her career there as Harvard medical school faculty. She maintained many friendships from the Yale medical school Class of 1973 after her transfer. The daughter of two physicians, she passed away in 2015, sadly, but not before seeing our older daughter become a third-generation woman physician.
Daniel F. Dedrick '70MD
Wilmington, NC
Correction
In our July/August cover story on the Yale Day of Service, we misidentified two participants at the Angel Island Immigration Station in San Francisco Bay. The woman pictured on the cover and on page 31 is Stefania Palmyra Geraki '06, '10MArch, not Anushka Fernandopulle '99MBA; the alumnus with a shovel on page 26 is event organizer Grant Din '79, not Steve Gluck '73.
In another Day of Service article about work at a school in New York City, we misidentified Kas Carter-McGinty as Kas Carter. And finally, Sheryl Carter Negash '82 and C'Ardiss Gardner Gleser '08 served last year as the YDOS cochairs; this year, the cochairs were Matthew Meade '87 and Elvira Duran '05. We regret the errors.