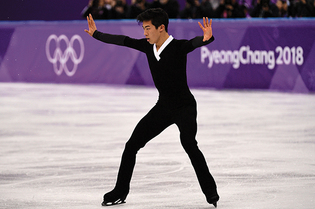 Roberto Schmidt/AFP/Getty Images
Nathan Chen '22, shown here competing in the 2018 Winter Olympic Games, wants to "grow outside the rink" at Yale. View full image
It's been quite a year for figure skater Nathan Chen. After becoming the first skater to land six quadruple jumps—in a record-breaking free skate during the 2018 Winter Olympics—the 19-year-old also took home a bronze medal in the Olympic team competition and won the 2018 World Championships a month later. What's left for the world's top male figure skater? He'll be staying in shape for another Olympic run, but as a first-year student in Yale's Class of 2022. For the current US champion to head to New Haven is more poetic than you might realize: the first US Figure Skating Championships were held here in 1914.
"Skating was a big factor" in his decision to attend Yale, Chen says. He attended Bulldog Days to get a sense of what the environment would be like for training, and found that "fortunately, Yale's scheduling and location will allow me to continue training for the next Olympics." The Salt Lake City native says he's been in discussion with Yale staff about making Ingalls Rink his home for practice. He may also look to other nearby rinks.
Chen will need to overcome the same challenge faced by every Yalie with a demanding extracurricular pursuit: the art of time management. He says he spends around three hours on the ice each day, a varsity-level practice commitment he'll work to fit in with his academic studies. He's expressed interest in statistics or a pre-med track.
Whatever the scheduling issues, he's looking forward to facing them alongside more than 1,500 like-minded first-years. During his high school years, Chen attended school through an online program. "It worked well for skating, but it really lacked in the social department," he says. "I'm excited to meet new people as well as grow outside the rink."
The circumstances parallel those of Sarah Hughes '09, who enrolled at Yale in 2003 after winning the singles gold at the 2002 Winter Olympics. While Hughes did not skate competitively as a student, she did take a year off to skate in the Stars on Ice tour. (She graduated this spring from the University of Pennsylvania Law School.) Luckily for Chen, his plans to compete dovetail with Yale's academic calendar: next year's world championships take place during spring break, and Skate America, a top event on the international calendar, falls during the October recess.
For now, he's looking forward to being a normal college student. "I'm really psyched to cheer on Yale basketball," says Chen, who roots for the Utah Jazz, his hometown NBA team. "Might even take up intramural basketball if I find the time to!"
Watch out, intramural b-ballers. You may find yourself guarding an Olympic medalist soon. And he can definitely jump.