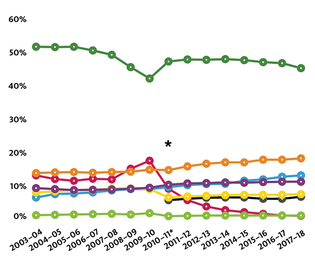 Source: Office of Institutional Research. Chart: Mark Zurolo '01MFA.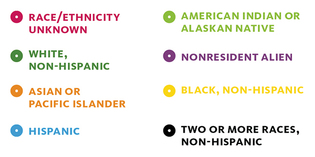 Race in college admissions has been in the news lately. Harvard is being sued for alleged discrimination against Asian American applicants, and in July, the Trump administration rescinded guidelines that encouraged colleges to consider race and ethnicity in admissions.
Yale says it will continue its current admission policy, which spokesman Tom Conroy says "seeks to create a vibrant and varied academic community where our students interact with people of different backgrounds and points of view." Taken from Yale's annual report to the Common Data Set, this chart shows domestic enrollment in Yale College by race and ethnicity over the past 15 years. (All international students, regardless of race or ethnicity, are listed as "nonresident aliens.")
* Beginning in 2010–11, a new category for "two or more races" was introduced.