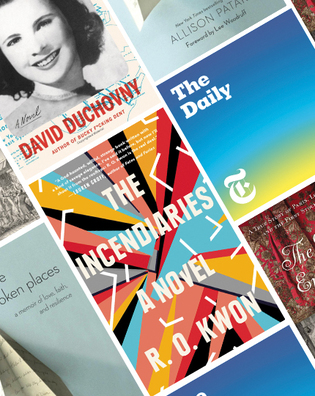 The Incendiaries: A Novel
R. O. Kwon '05
Riverhead Books, $26
"Some people needed leading," said John Leal. Leal is the head of a small band of seekers that becomes a cult, with a mission to end abortion. He's a magnetic cross between Jim Jones and Osama bin Laden, and he leads Phoebe, a lapsed piano genius, away from her lapsed evangelical boyfriend, Will—and toward a starring role in a clinic-bombing plot. Who is leading whom, and where, is the heart of this deep and searing tale about love, faith and loss of faith, and God's fire.
Beauty in the Broken Places: A Memoir of Love, Faith, and Resilience
Allison Pataki '07
Random House, $26
On June 9, 2015, Pataki, a novelist who was then five months pregnant, boarded a plane with her physician husband for a Hawaii vacation before the baby arrived. They never made it to the islands. En route, David Levy '07, who was 30 at the time, suffered a highly improbable but devastating stroke. In her harrowing account, much of it told through the letters Pataki wrote to her then-amnesiac husband during his remarkable recovery, she reminds him to "always remember how lucky we are."
This Narrow Space: A Pediatric Oncologist, His Jewish, Muslim, and Christian Patients, and a Hospital in Jerusalem
Elisha Waldman '94
Schocken Books, $25.95
When oncologist Waldman arrived at Hadassah Hospital in Jerusalem 11 years ago to treat Israeli kids who had solid tumors of the bone, muscle, and connective tissues, his move to the nation seemed almost immediately to "capture all of my Zionist ideals." On his first day on the job, he watched two youngsters, one Jewish, one Muslim, and both united by cancer and chemotherapy, work together on an art project. Waldman gives a stirring account of his seven years at the hospital as reality clashed with idealism.
The Queen's Embroiderer: A True Story of Paris, Lovers, Swindlers, and the First Stock Market Crisis
Joan DeJean '74PhD
Bloomsbury, $30
In the annals of bad parenting, Jean Margoulet is horrendously noteworthy. A master of embroidery who created incredible work in the early 1700s for Louis XIV and Marie Thérèse, the king and queen of France, Margoulet was also a swindler and a die-hard social climber. To prevent his daughter Louise from marrying into a rival family, he colluded with authorities to have her declared a prostitute and a thief and sent off to a penal colony called Louisiana. In historian DeJean's compelling recounting, "haute couture crossed paths with high crime."
Miss Subways: A Novel
David Duchovny '89Grd
Farrar, Straus and Giroux, $26
In Duchovny's entertaining third novel, New York City's subway is the backdrop for a madcap meeting of Irish and African myth, Yiddish folklore, and modern life. The protagonist, Emer Gunnels, is a thoroughly ordinary, 40-something elementary school teacher. But she also has a penchant for playing Led Zeppelin on the ukulele and, occasionally, a feeling that she is "under the power of hallucinatory thought." From this unlikely collection of details, the author assembles a sweet and richly imagined rom-com.
The Daily
Michael Barbaro '02
podcast, available at nytimes.com and elsewhere, free
Barbaro brings a laid-back yet keyed-up voice to The Daily, which he has hosted since it began in early 2017. He tackles one story a day, sticking to facts rather than punditry or prophecy. He has such respect for the Times reporters who are his usual interview subjects that he lets them hold forth, at some length, but he listens patiently and adds his own insights. He's so attuned and attentive, and interested in the fact-gathering process, that it leads to remarkable conversations. In the middle of one interview, with Syrian student Mahmoud Bwedany, Barbaro asked: "Can I ask, do you consider yourself to be a rebel? . . . How do you consider yourself?"