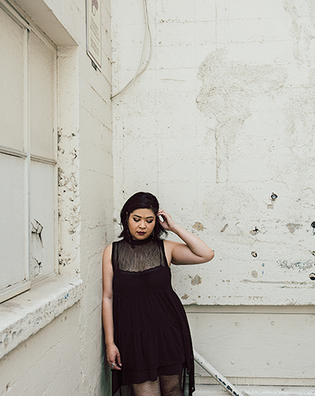 Max Gerber
Koi Anunta '00 and her parents had settled it: she was going to be a doctor. She earned her MD—and the MD helped get her into music. These days, she performs with the likes of Adam Lambert. View full image
Buffalo-born Koi Anunta '00 graduated from medical school—but quit to become a professional musician. She now lives in Los Angeles, where she's been a studio musician and live performer for over a decade on electric violin, keyboard, and vocals. She's worked with Macy Gray, Adam Lambert, and Glass Tiger, and her trip-hop group—In Love & WAR—debuted its first album, Tessitura, this summer.
Yale Alumni Magazine: Music and medicine?
Koi Anunta: I started piano when I was four and violin when I was eight. Everything—horseback riding lessons, dance lessons, music, the whole thing—was because I'd basically been destined to go to medical school since before I was born.
Y: It worked! You got into Yale!
A: I always thought I wanted to go to Harvard. Junior year I went to visit and it was so boring! Then I went to visit Yale, and I told my parents: "I'm only going to apply to Yale." And I did. I was 15 at the time.
Y: Fifteen?
A: I skipped first and second grade.
Y: Wow. So how was Yale?
A: Honestly, the most magical time of my life. I made friends, I learned how to drink. It was freedom, it was knowledge. I was an English major—that should have been the first sign I didn't want to be a doctor.
Y: Yet you went on to the Buffalo School of Medicine.
A: I was pretty sure I was going to be a surgeon. But there was one day in my fourth year—I was doing an "away elective" at UCLA in liver transplant surgery—I'm exhausted, it's really depressing, especially with end-stage scenarios. And it occurred to me that when people are sick, they go to the hospital to heal their bodies. But when I'm sad, I put on my favorite song. So I want to be the music that makes them feel better. I literally told my parents, "I don't want to be a doctor. I'm going to move to L.A. and be a musician."
Y: Reaction?
A: They were very, very shocked, because I'd never really said anything about it. It had taken all that time for me to figure it out.
Y: And then you simply packed your bags?
A: The day I landed in Hollywood I was unloading my keyboard from my car and into my new apartment, and this guy [Blair Shotts] comes out and says, "Are you a musician?" I said yeah. He said, "Do you want to go on this audition with me tomorrow?" It was an audition for Barry Squire, who was, in 2004, the gatekeeper of auditions. Blair told Barry I was a doctor, so Barry said, "Oh wow. So if the band OD's on tour you could totally take care of this?" And I was like, "Yes."
Y: Your career has been in overdrive. Yet it's only this year you released an album of your own. Why?
A: When I was 15 I put together a demo of my very first song, and I was so proud of it, I actually sent it to the radio station in Buffalo—KISS 98.5—because I didn't know what else to do. The DJ said he was going to play it on the air. And I was like, "Is it this easy?"
I gathered two of my best friends and we sat on the floor of my room, waiting for the song to come on. And it did. But what the DJ didn't tell me was that he was going to make fun of it on the air. He superimposed barnyard animal noises over the song, and I have never been so humiliated before or after. It was like, "I suck!" That has seriously lived with me all these years. So I never showed anyone my original music.
Y: What finally changed?
A: Last year I happened to meet a Capitol Records producer. We became friends, and he asked, "Do you have original music?" And I said, "Yes." And he said, "Well, let me hear it!" And I said no. Seriously, I must be the only girl in L.A. to ever tell a Capitol Records producer, "No, you can't hear it." It literally took a bunch more times until I was like, "Okay. Fine." I played him one song—the one demo I had—and he started laughing, which brought back all those memories. I said, "You hate it!" And he said, "I'm laughing because it's so good! After everything you said, I honestly did think it was going to be bad."
Y: Moral of story?
A: I just put out an EP of six songs. It's been out three weeks and featured in four magazines so far—not including the Yale Alumni Magazine.