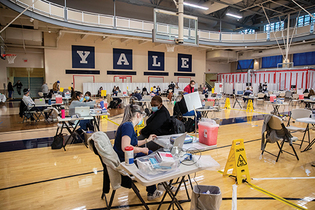 Dan Renzetti
Last spring, our cover photo showed Yale's Lanman Center fitted out as a field hospital for possible overflow COVID cases. It never came to that, but Lanman had its second act in the pandemic in January as a vaccination clinic for Yale Health, with 20 vaccination stations (left).
The US Justice Department announced in February that it was withdrawing a lawsuit against Yale for alleged discrimination against Asian American and white applicants in undergraduate admissions. The suit was filed last fall under the Trump administration. A group called Students for Fair Admissions, which filed a similar suit against Harvard, plans to take on the Yale case and refile it as plaintiff.

Yale College reunions will not take place in person this spring due to the pandemic, the Yale Alumni Association announced in February. The YAA had hoped to avoid a second straight year without alumni gathering on campus, but vice president Joan O'Neill and YAA executive director Weili Cheng '77 wrote in an email to alumni that "the risks and unpredictability are too great to move forward." The YAA is working with reunion classes to plan online activities.

Returning students in Yale College faced a monthlong phased quarantine when they arrived at the end of January. They were required to stay in their suites until they received a negative COVID test result—usually 24 to 36 hours. They were then restricted to their residential college or residence hall and courtyard until February 15, and they were required not to leave the campus until March 1.

Construction fences are coming down on campus: at 320 York Street, where the renovation of the former Hall of Graduate Studies as the new Yale Humanities Quadrangle is nearly complete; on Science Hill, where the green space at the head of Hillhouse Avenue has been remodeled; and on Beinecke Plaza, where work on the Schwarzman Center is wrapping up. (See our feature here.) New fences are up at the Peabody Museum, which is being renovated and expanded, and at Kline Tower, which is being renovated to serve the departments of astronomy, math, and statistics and data science.