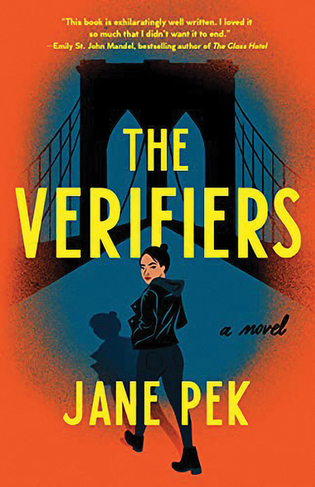 The Verifiers
Jane Pek '05
Vintage, $17
Reviewed by Mark Blankenship '05MFA

The Verifiers, Pek's debut novel, concerns a hush-hush firm for daters wondering about their online dating experiences. Are the matches honest about their identities? The conceit might suggest a Sex and the City episode, but the novel is actually a literary mystery narrated by Claudia Lin, a young, amusing Chinese American woman who has recently been wooed away from her boring financial job to work for the Verifiers. Though relationship-adverse herself, Lin does have a passion: for mystery novels. She's read them all, so she's enthusiastic about her new position as professional snoop. Her employers—one hostile, one opaque—insist that their firm is no detective agency, just a business for confirming or denying suspicions. But then a client disappears, and Lin goes rogue: she investigates, using the Verifiers' own legal (but morally problematic) access to tracking software and dating platform files. When her efforts are interrupted by required family dinners and roommate dramas, she is forced to consider compatibility, privacy, and trust issues closer to home.

At key decision-making moments, Lin references plot lines from a beloved Inspector Yuan book. This (fictional) series, as well as Lin's own tendency to deconstruct her story as it happens, allows Pek to send up detective novel tropes and stereotypes of the Chinese. Though the reader often perceives the likely direction of the mystery before Lin does, that doesn't mean we're on to Pek. She keeps the reader guessing till the final page, which hints (oh, please!) that there may be more Claudia Lin mysteries to come.