Judy Schiff's legacy
Having lived 1,300 miles to the west in Minneapolis since retiring from Yale in 2012, I look forward to each issue of the Yale Alumni Magazine. But I jumped when the newest issue arrived today with Judy Schiff's photo on its cover ("Remembering Judith Schiff," September/October). Not every alumni magazine would put an archivist's photograph on its cover. Kudos for honoring Judy in such glorious fashion. She was everything you and your writers have described. In a fancy institution where too many are too self-centered, Judy was so approachable, so friendly, so eager to help. And yes, as you observe, with that smile. I still see it with such pleasure.
Jon Butler
Minneapolis, MN

Mr. Butler is the Howard R. Lamar Emeritus Professor of American Studies, History & Religious Studies and a former dean of the Graduate School.—Eds.

I am sorry for the loss of my friend from New Haven Towers, Judy Schiff, and for your loss of her contributions to the magazine. Judy often said she wanted to write a book, but alas, that did not happen. So I hope you might be considering a book of her "Old Yale" articles. This book could be quite viable. Judy's New York Times obituary has caused her to become somewhat of a celebrity (although it is upsetting for me as a feminist for her to be said to have "rummaged" through the Yale archives when she created many of them). Even a German publication wrote about her.
Lynne Shapiro
San Diego, CA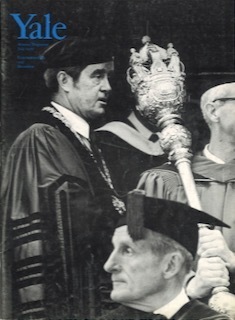 I was delighted with the cover of the September issue. I didn't know Judith Schiff, but it reminded me of a Yale Alumni Magazine cover (from the '70s, I think) with her predecessor as a historian of Yale, George Pierson (whom I knew slightly), carrying the same mace. Unlike hers, Professor Pierson's demeanor was stern to the extreme, and contrasted vividly with the cheerful look of President Kingman Brewster directly behind him. Perhaps it's something about academia meaning different things to different people. If there is an archive of your cover pictures, I would love to see it again.
Gil Hillman '69PhD
Madison, WI
The cover that Professor Hillman remembers (above) is from July 1970. That is Professor George Pierson '26 at the bottom of the photo, but he's not holding the mace.—Eds.


Aim high
Yale's intention, per the president's 2022 welcoming address, to "provoke you to uncover all you do not know before you leave" is bound to frustrate anyone who expects to succeed at it. In 80 years, I doubt if I have uncovered a millionth of all I do not know. But the effort is worth pursuing nonetheless.
Ron Sipherd '64
Oakland, CA


Fighting words
I am baffled by the new "Fight for Yale's Future" group's call for the university to commit, in writing, to free speech, so conservative students and faculty feel accepted and avoid self-censoring ("New Group Seeks Changes at Yale," July/August). Is Yale denying anyone a forum to vocalize lovingly about supply-side economics? If, however, this group is demanding Yale police its community to listen quietly and respectfully to racist, sexist, homophobic drivel that passes as conservative thought nowadays, instead, let those who oppose hate exercise their free speech rights too, even if simultaneously and loudly.

Dehumanizing attitudes need not be muted but must never feel welcome.
Chandak Ghosh '90
Chappaqua, NY

It's hard for me to gin up much sympathy for the William F. Buckley Jr. program's current campaign to "save" Yale. It seems their main complaint is that Yale is not supporting free speech. As a lifelong liberal (and proud of it), my experience of the Right's idea of free speech is like their current idea of election legitimacy: it's OK if the speech is ours, but not if it's yours. This is the same crowd that ruined lives and careers during the McCarthy era, using guilt by association. These are the folks that used to have FBI agents at our anti–Vietnam War demonstrations, taking names and photos for future use. This is the gang currently banning books in schools and firing teachers who support real free speech.

Playing the victim ill befits you, Fight for Yale. How many died due to the free speech on Fox News that declared the coronavirus pandemic a political hoax? How has our democracy been corrupted from the free speech decision of the Supreme Court declaring that corporations were people with First Amendment rights? Give me a break!
Bill Frisbie '73
Oceanside, CA

I attended Yale from 1951 to graduation in 1955. Not being politically savvy then, I want to convey my thoughts now.

In retrospect, I am so happy my courses were taught without any contemporary political bias. Except for one course: Labor Economics. One day the professor was praising the United Steelworkers Union for using a secret ballot for workers to vote on whether or not to strike. Having grown up in the Pittsburgh area, I had grade-school friends in that union. One of them told me that a strike vote was an open-hand vote; if you did not raise your hand when directed to vote in favor of the strike by the union leaders, you were beaten up.

I raised my hand and told the professor this. He said: "You are wrong. Sit down. What is your name?"

He gave me the lowest mark I received in four years at Yale. I hope there are no such professors there now.
Fred Robertshaw '55
Paradise Valley, AZ


The Nobelist around the corner
As the most junior member of the faculty of the School of Architecture in the mid-1980s, I bought a house in Hamden around the corner from the Altmans ("Sidney Altman, 1939–2022," July/August). Sidney and Ann were more than gracious in welcoming me and my family to the neighborhood despite the difference in academic rank and Nobel prizes. Dean Altman mentored me through a period of academic angst and was also assigned by Ann to feed our cats when we were out of town.
Bill Gilliss '83MArch
Louisville, KY
Tennis on the hill
I read with interest Judith Ann Schiff's article about tennis at Yale ("Splendor on the Grass," July/August). I recall a slightly different tennis experience. The Divinity School used to have one court near the married students' dorm. It was unique to say the least. The surface was asphalt with large meandering cracks. As I recall there were oak trees overhanging with—of course—plentiful acorns in the fall.

When a ball struck an acorn, it could go in any direction and frequently did. The surrounding fence was fairly low, with holes, and various balls would disappear down the hill. Our matches would end when the balls did. A purist would not have approved, but if one adjusted it was fun while it lasted.
Jeffrey Brown '74Div
Bernardsville, NJ


More on artificial turf
Kudos to Nancy Alderman for alerting Yale to the dangers of artificial turf (Letters, September/October). Yale's 2017 review of the situation clearly did not have access to information available in "Artificial Turf and Crumb Rubber Infill: An International Policy Review Concerning the Current State of Regulations" as of September 16, 2022, in the journal Environmental Challenges. This key survey addresses ongoing international concerns "over the human and environmental health risks posed by the use of these artificial fields due to evidence of harmful chemicals contained in the artificial turf fibers and in the crumb rubber infill. A recent study from Yale University concluded that there are at least 306 different chemical agents in the crumb rubber infill, with as many as 197 exhibiting carcinogenic characteristics (Perkins, Inayat-Hussain, and Deziel, February 2019)."

Given these more recent findings by Yale itself, I am puzzled at its response to Ms. Alderman's letter. No study I have yet seen examines the effects over time of hot-day artificial turf surface temperatures reaching 172 F (in one Toronto study) or of UV radiation (from sunlight) on degradation of both the polyethylene yarn/fiber "grass" and its crumb rubber infill—along with reaction to naturally occurring carbonic acid in rainfall (rain at pH 5.6 vs. pure water at pH 7, approximately). Athletes who fall or get tackled may inhale some of these chemical agents carried in dust comprised of increasingly small particles sloughed off the crumb rubber and any polyethylene broken down in these processes.

Next steps?
Lee Gaillard '61
Eugene, OR

I hope artificial turf will not replace grass on more Yale playing fields! In addition to artificial turf exposing players to more injuries, heat, and toxic chemicals than grass, as pointed out by Nancy Alderman, its environmental costs are high, and it is not economical in the long run.

Before artificial turf is laid, up to a foot of valuable topsoil is carted to the dump, and tons of gravel are trucked in. After installation, artificial turf must be power washed frequently to keep it sanitary as well as looking nice, and rolled to keep it level, so the claims that it saves water and labor are overstated. When artificial turf wears out, it goes to the landfill, whereas sod can be composted.

Every Yale leadership decision these days must consider global warming. It appears they did not do this in their review of artificial turf.
Frances Adams '69MA
Ashland, OR


Snyder on fascism
Recently the Class of 1970 announced a meeting to discuss ways to restore "civil and tolerant" speech to our country. In this context, I am surprised and disappointed that the Yale Alumni Magazine would give space to Timothy Snyder to call people "fascists" and "enemies of democracy," among other epithets ("Quoted," July/August). Can you tell me why the magazine, which has wide latitude to publish civil and tolerant speech, chose to print these uncivil and intolerant words?
Tom Neagle '70
Tega Cay, SC

Snyder, the Richard C. Levin Professor of History, is recognized as a leading authority on the history of fascism in Europe; we think his views on Russia and the war in Ukraine are relevant to readers.—Eds.



Thanks, Tuskegee Airmen
Thank you for the photos of surviving Tuskegee Airman Enoch Woodhouse II '52 in your recent magazine ("A World War II Vet Gets His Due," July/August). As another US Air Force survivor, I appreciated Alex Beam's fine article about the mistreatment of Black World War II heroes at Yale.

I was a staff sergeant in the US 15th Air Force, 449th Bomb Group, Squadron 718, stationed in Grottaglie, Italy. We completed the required 35 missions over Europe in early 1945 after being downed twice over Vienne. When falling behind our returning squadron after being crippled several more times by German marksmen, we rejoiced in the superb escorting given us repeatedly by Tuskegee Airmen.

Congratulations to Lt. Col. Woodhouse and his other Black flyers, who doubtless saved our lives.
Alexander K. McLanahan '49
Houston, TX


Is the Grad School professional?
While I don't like to contemplate such an unthinkable possibility, it may be that someone who holds a Yale BA has to have secured a more senior degree (and a degree, at that, in the humanities rather than in statistical or logical reasoning) from the graduate school of arts and sciences of a comparably august seat of learning before being able to structure a list that's complete in its claims and then to make those claims consistent with facts contained elsewhere in the same publication.

I refer to your chart "By the Numbers: Professional Schools" in your September/October issue. One quickly notices in the short article's roster of the enrollments in Yale's professional schools the omission of Yale's own Graduate School of Arts and Sciences. That seems strange inasmuch as those of us holding doctorates in the many disciplines of the humanities, social sciences, and natural physical sciences always considered ourselves to be in possession of professional degrees granted by professional schools—that is, of sheepskins testifying to the completion of requirements that met our respective disciplines' standards to practice as professional musicologists, sociologists, and physicists.

Mine did so—or at least, until now I always considered myself to be in the nomenclatural, legal, and ethical clear in referring to myself as a professional historian on the grounds that I hold a Columbia PhD. But wait! So apparently in fact, albeit in another place, does my New Haven alma mater. On page 61 of the same issue is to be found a report, among those of the university's other professional schools, from the "Graduate School of Arts & Sciences." So might we have a fresh rendering of a corrected comparative tabulation of enrollments in all of Yale's professional schools without any wiggling out, via journalistic or other professional tergiversation, of the inconsistency?
James M. Banner, Jr. '57
Washington, DC

As we noted in the text accompanying that chart, the Graduate School had an enrollment of 2,838 students in 2021–22, and Yale College had 6,536. It has long been understood at Yale that the professional schools and the Graduate School are different types of institutions. The university states on its website that "Yale offers advanced degrees through its Graduate School of Arts & Sciences and 13 professional schools." Yes, the Graduate School gets a column in our School Notes section; so does Yale College. —Eds.


The meaning of "woke"
While I disagree with almost everything Lee Nelson expresses in his letter published in the July/August issue (including the suggestion that an executive at Twitter is a priori cut from "left-wing cloth"), this is hardly the forum for a debate on political philosophies. However, there was one line in his denunciation that I could not let pass without comment. Mr. Nelson derisively suggests that Yale will ruin its reputation by becoming too "woke." I should note that Merriam-Webster's dictionary defines woke as being "aware and actively attentive to important facts and issues (especially issues of racial and social justice)." I'm fairly certain Yale's reputation won't be tarnished irreparably if its students fulfill that definition; if it is, that reputation was built on the wrong foundation.
Jeffrey Gersick '72
San Francisco, CA


Progress
Reading the six-page spread on the Yale women's ice hockey team ("Firepower," May/June), I thought back to the 2019 issue commemorating 50 years of coeducation at Yale. My classmate Lawrie Mifflin '73 detailed the travails that she and her fellow field hockey teammates endured trying to get the university to recognize women's sports as an activity and to fund them accordingly. And I remembered Glynis Johns in Mary Poppins singing about the future. "Our daughters' daughters will adore us, and they'll sing in grateful chorus, Well done, sister suffragettes!"
Phillip Cheron '74
Cleveland Heights, OH


Corrections
In our article about the Duke Ellington Fellowship concerts in 1972, we erroneously referred to the Yale Film Archive as the Yale Film Center. In a caption in the same article, we misspelled the name of bassist Richard Davis. We regret the errors.