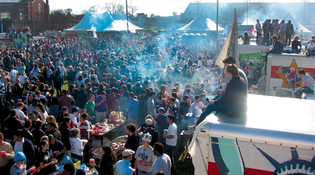 Associated Press
The tailgate parties in Parking Lot D before the Yale-Harvard game—organized by fraternities, societies, residential colleges, and other groups—attract hundreds of students. (This photo is from the 2003 Game.) View full image
Even before the parking-lot accident at the Yale-Harvard football game on November 19, which killed a woman and injured two others, we at the Yale Alumni Magazine had tailgating on our minds. In the wake of Judith Ann Schiff's most recent Old Yale column—on the origins of parking-lot picnics at Yale more than a hundred years ago—we had asked food writer Jane Stern '71MFA to visit the lots surrounding the Yale Bowl on the day of the Harvard game and give us her take on the culinary offerings.
As Schiff described it, tailgating grew more popular (and earned its name) after World War II, as parents and alumni began driving their station wagons to the fields on game days to set out buffets on the tailgates. But the tragedy at The Game this year took place because a U-Haul truck, being driven by an undergraduate to a fraternity tailgate, somehow went out of control. The accident turned local and even national attention to a variety of tailgating different from the picnics that older alumni associate with the word.
Alumni we spoke to from the 1980s and earlier remember tailgating, if they experienced it at all, as a meal with parents or friends of the family. For many Yale alumni and staff today, the Yale-Harvard game tailgate is an elaborate feast and a biennial reunion. But beginning in the 1990s, students started organizing their own Harvard-game tailgate parties. At Yale and other colleges, tailgating has grown into a major student social scene, and heavy drinking is usually the main event.
In this issue, New York Times reporter Thomas Kaplan '10, '10MA, reports on student tailgate culture and administrators' efforts to make it safer. In the pages that follow, two longtime Yale observers, Mark Oppenheimer '96, '03PhD, and William N. Wallace '45W offer two radically different opinions on what to do about the tailgate problem. And Jane Stern's report reminds us that tailgating isn't always about kegs and U-Hauls. —The Editors