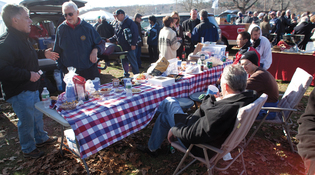 Mark Ostow
This group's tablecloth was a more bipartisan approach to tailgating. View full image
There is nothing inherently wrong with tailgating, a warm and fuzzy prelude to a football game. Or so it was at my first, back in 1931, when the Yale Bowl was a pristine amphitheatre just 17 years old. I was a seven-year-old guest of a wealthy family, and we came in a chauffeur-driven Isotta Fraschini town car that had a tonneau rather than a tailgate.
As so often happens to good deals, imperfections arose over time. Let's blame television, for one thing. The small TV set that could be plugged into an automobile's electrical system brought the game to the tailgaters. Why bother going into the stadium when we're having such a good time out in the parking lot? I recall looking down from the roof of Harvard Stadium one recent year and observing large clumps of young alumni outside at their vans, glued to barbecue burns and beverage bars. Although there was a great Yale game going on inside, the lure of social contact, of networking, smothered the football.
Because a young woman was killed, about two hours before the last Yale-Harvard game, by a truck carrying beer for a fraternity tailgate in Lot D, tailgating is taking a hit. Harvard had already banned box trucks coming into its lots, and my guess is Yale will do the same. Underage drinking is already discouraged by the issuing of mandatory bracelets for those 21 and over at residential college–sponsored tailgates, a feeble gesture (and part of an endless debate: if you can vote at 18 why can't you drink too?).
While it's hard to compare alcoholic intake from one decade to another, suffice it to say that the flask and pint-bottle drinking in the Yale Bowl in the 1930s and 1940s was a good deal more evident than in the tame twenty-first century. In 1936, a woman urged Yale president James Rowland Angell to ban alcohol from the Yale Bowl. He did nothing, presumably on the premise that a Yale man can't dictate human behavior.
I'd say the same about tailgating. Okay, no more trucks or vans in Lot D. But otherwise leave The Tailgate alone. And hope for the best every two years.