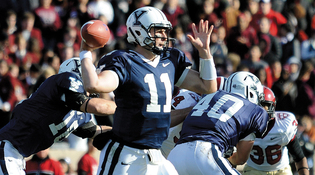 Associated Press
Senior quarterback Patrick Witt passed up his interview as a finalist for the Rhodes Scholarship for one last chance to beat Harvard. View full image
In the end, Patrick Witt '12 (at left) did play, but it hardly mattered. After much public curiosity, the senior quarterback passed up his interview as a finalist for the Rhodes Scholarship—which was scheduled in Atlanta on the same day as The Game—for one last chance to beat Harvard.
It could not have gone worse.
Unlike the previous two closely fought installments, this year Harvard spotted Yale a first-quarter touchdown, and then never looked back, scoring 45 unanswered points. The final tally was 45–7, the most lopsided result since Harvard won by the same score in 1982. The Crimson victory, Harvard's fifth in a row over Yale and its tenth in eleven years, put an exclamation point on the Ivy League championship that Harvard had secured a week earlier.
The Harvard offense, which set a school record for points in a season and helped the team to double-digit victories in all seven conference games, was triggered by senior quarterback Collier Winters, who passed for 355 yards and two touchdowns and ran for 62 yards and another score. On defense, a menacing front seven, led by Ivy League Defensive Player of the Year Josue Ortiz, sacked Witt four times and goaded him into three interceptions, the last of which was returned 32 yards for a touchdown.
After the game, Ortiz proposed to his girlfriend on the field (she said yes) while Tom Williams, Yale's head coach, faced reporters. After watching a fourth-quarter lead over Harvard disappear in 2009 with an ill-advised fake punt call on 4th and 22, and losing in 2010 despite dominating the game statistically, this year there were no moral victories. "We were beat by a better football team," Williams said. "Bigger, stronger, and faster."